| Sire: BISS Ch Lagarada's Aspen Gold | Dam: Affaire's For Your Eyes Only |
| --- | --- |
Basil had something special about him from the day he was born. I would have kept him myself if I had room for another male. Instead, I sent him home with Shelley Hayse and he lived with her all of his life. Shelley would hand him off to me for shows so he went back and forth between her house and mine while he was showing. I showed him myself and put all his single points on him. He was a very nice dog - structurally very sound, lots of bone and overall mass, but still elegant and a good mover. Basil also had a very nice head, but despite his qualities, he didn't like showing much and it held us back in the ring.

I tried putting his majors on him - I took him to many major shows. We traveled all over the west, but I just could not get enough out of him to win those big points. So I turned him over to Diane Collings and she finished him in 3 shows! I could have saved myself a lot of time and money if I had put a handler on him before that, but we had a great time traveling around and exploring every where we went. Basil finishing his championship was a bittersweet moment for me. I was glad he had earned his title and proud of him, but I wasn't going to get to see him as much, so that was the sad part of it.

I sent him home to Shelley where he lived out the rest of his life, very happy exploring the parks by San Francisco Bay and the woods in the Oakland Hills where they lived. We would meet up from time to time to walk dogs together, take pictures and do toenails. Shelley has been a great home for many of my dogs and we would meet to hand off who ever the current show prospect was and I'd get to see Basil too.

When he was about 8 1/2 years old, Basil ruptured a disk in his lumbar spine. He had surgery to repair the disk and physical therapy to get him back into shape after he healed. He was doing quite well, especially for a very large dog. In late August of 2015, I took him and his elder sister Jessie for echoes and they both had no issues whatsoever. Not even any degeneration related to age. With him approaching his 10th birthday, I felt pretty good about that. He was seemingly in very good shape.

Then the unthinkable happened - a bit over 2 months past his 10th birthday, Basil died. He was outside with Shelley and they were heading back in the house. Basil stopped for a drink at the door and Shelley went on inside. Then she heard the scrambling of feet and a big crash and rushed out to see what happened and found Basil gasping his last breath.

The suddeness is just so hard sometimes. You have no way to know or prepare. We both miss Basil terribly. He was just such an awesome dog. Rest in peace my big "B", until we meet again.
Basil at the UC Davis Arboretum. He's about 7 1/2 here.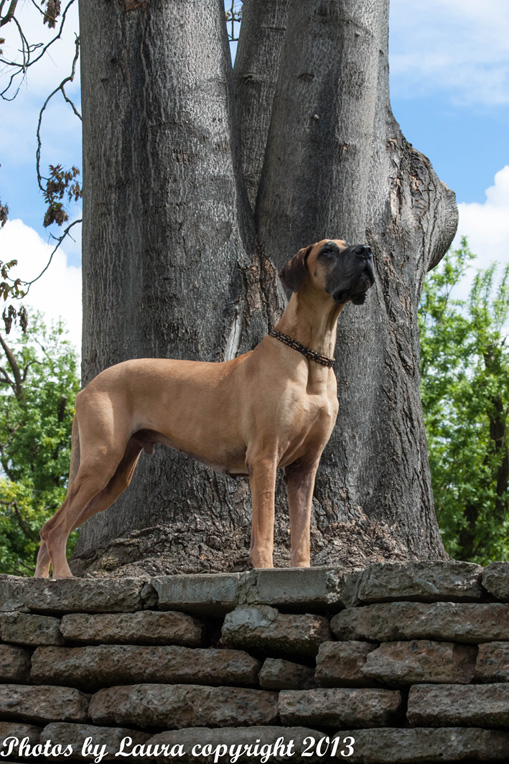 Basil is 15 months old here. It was the day of his second show and his first point.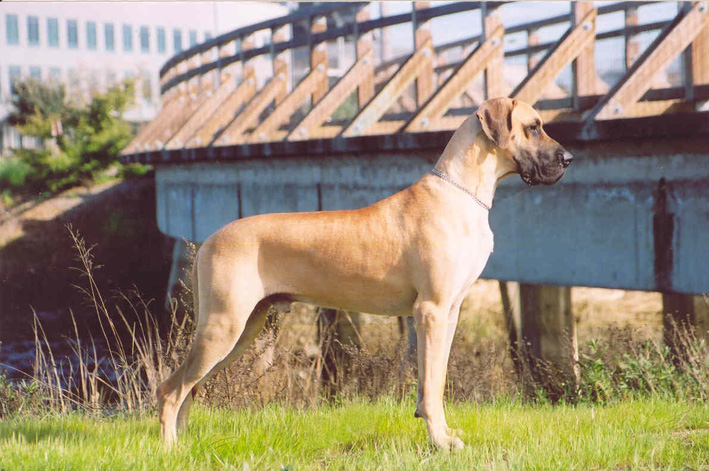 This is Basil's first major - he finished his championship at the very next show.