| Sire: BISS Equus Diamond's Are Forever, CGC | Dam: Blanton's Country Affaire |
| --- | --- |
Hunter was a very cool dog. His only ailment during his entire life was an inquinal hernia which showed up at about 8 weeks. It was repaired before he was placed in a home with a family.

I remember their first visit here well. The youngest boy was afraid of the size of my dogs. I think he was reacting to his older brothers apprehension more than anything. After an hour or so, the boys were laying on the floor, their heads resting on Conner's side. Hunter went home to live with them and had a very healthy and happy life. He grew up in a classroom of special needs children and was a perfect model of Great Dane gentility and intelligence. I know he made a difference in the lives of everyone who knew him.

When he was about seven and a half, he and two of his half sisters were returned to me due to divorce. I found the two girls a home and Hunter stayed here for 10 months. This is a picture of him taken at that time.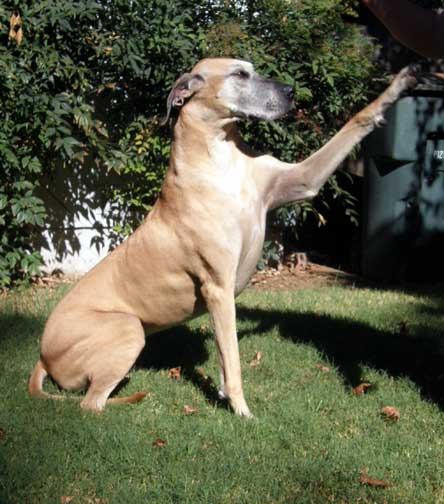 While he was here, I took him to the cardiologist for an echo. Hunter was echo normal at 87 months of age. Once the divorce was settled and the wife was able to get her own home, she came and took Hunter back. I last saw him on his 11th birthday. We met with our two siblings for a doggy outting at a local shopping area. The two of them had a blast soliciting pets from anyone that walked by. He looked great. I know that in the year that followed, he started to show signs of age-related weakening in the rear, but otherwise had no ailments.
Hunter was a big puppy. Compared to his siblings, he looked like he was from a different litter that was a week or so older. This is one of my favorite puppy pictures of him.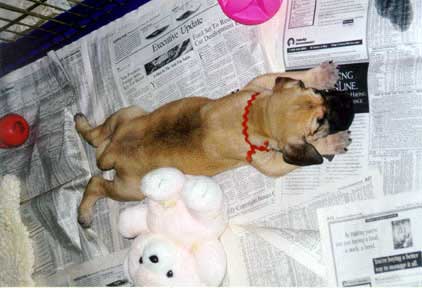 Being a Dane approaching 12, he had the normal spinal degenerative issues that older Danes develop. Other than that, he was happy and healthy. Then on February 16, 2013, he did not want his dinner. He passed quietly at home the next day, with his mom and her son by his side.