| Sire: BISS Ch Lagarada's Aspen Gold | Dam: Affaire's For Your Eyes Only |
| --- | --- |
Jessie was one of the two bitches I kept from my first Travis litter. She originally lived with Kim & Dannie Blanton and they would bring her to me for showing. When she was finished and I wanted to breed her, Kim gave her back to me and she lived here the rest of her life.

Jessie found showing absolutely boring. She was pretty laid back anyway - it was very hard to get a spark out of her. I turned her over to professional handlers because there was no way I could get any attitude out of her. In fact, she would get bored with her handlers and I'd have to switch them around just to give her something "new". She did finish by the time she was about three.

After having two litters, Jessie was to be spayed. After her last heat cycle, she got a case of open pyometra, so the spay was done earlier than planned, but she came through it fine. Other than that, I don't recall her ever having any health issues.

As she got older, she started to have weakness in the rear and some fecal incontinence. When she was approaching her 11th birthday, I started making turmeric paste for her. The results were amazing. She had a lot more energy and was obviously more comfortable. This is a video of her of her after being on the paste for a few weeks.

Gradually, it got worse until medication could not keep her comfortable and mobile. This is not unusual for a Dane over 11. She just didn't seem ready - she was still interested in things even though her body would not cooperate. One day she let me know it was time. I was able to get her up and help her out to pee with a sling, and I could hold her up to eat, but she was unable to stand or walk on her own and did not even raise her head up off the bed when a friend came to see her. As hard as it is to make these decisions, it seemed like it was not a day too late or a day too soon.

Jessie was the matriarch here. It took a while for me and the other dogs to reestablish a routine. Jessie leaving had a big impact on us all. Run free my sweet girl.
Jessie at 7.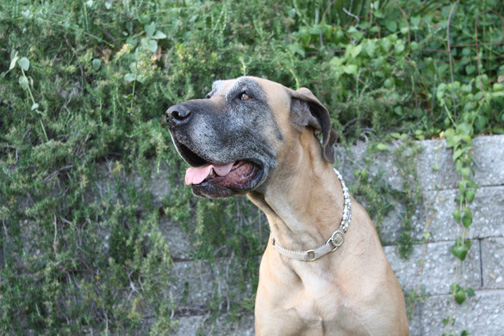 Jessie showing in Ventura.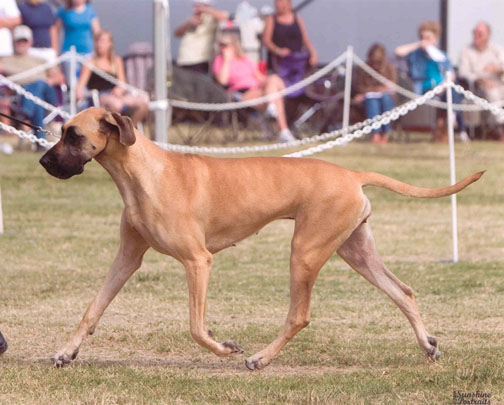 Jessie at 5.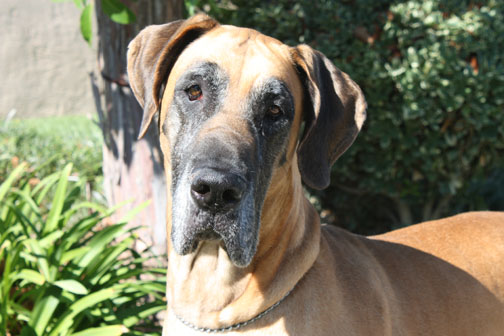 Jessie on her 11th birthday.